Meet Our Staff
We are very proud of the staff at Vein Specialists of Illinois. The consistent care they bring to their work each and every day is part of what makes our practice special and remarkable.
Celina Perlberg, R.N.
Sclerotherapy Nurse and Practice Administrator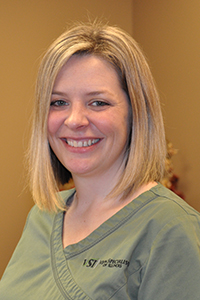 Celina Perlberg has been an instrumental part of Dr. Sorenson's clinical care team for the past 5 years, specializing in treating superficial spider veins.
Celina graduated from University of Illinois Champaign-Urbana with a B.A. degree in Latin American Studies and from Truman College Chicago with an A.S. degree in Nursing. Before entering the field of phlebology, she worked as an emergency room nurse for five years. As one of our medical providers, Celina prides herself on providing the highest level of care tailored to each patient's individual needs and enjoys building lasting relationships with her patients. As our practice administrator, she works to make sure the practice runs smoothly and that every patient has the best experience possible while in our care.
In her free time Celina enjoys traveling, hiking, reading and attending live music events with her husband and two sons.
Beth Spisiak, R.N. - Nurse Sclerotherapist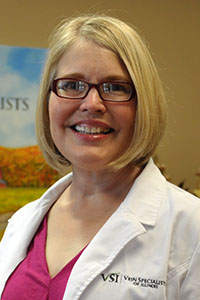 Beth Spisiak, R.N., attended West Suburban Hospital nursing school in Oak Park, IL and earned her BSN degree at the University of Illinois in Chicago in 1984. She has experience in medical/ surgical nursing, office nursing and home health. Fourteen years ago, she began treating reticular vein disease with visually guided sclerotherapy and enjoys the difference she can make in improving leg discomfort and cramps caused by vein disease, as well as the aesthetic improvements she can achieve with these injections.
She enjoys being with her family, volunteering at her church, travelling and doing missionary projects.
Lisa Burton - Ultrasonographer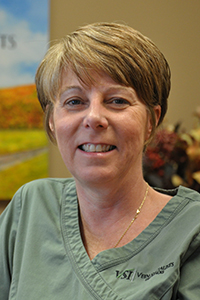 As our Ultrasonographer, Lisa Burton works closely with Dr. Sorenson to provide each patient with an individualized care plan.
Lisa has more than 18 years experience in all aspects of ultrasound.
She served in the U.S. Navy for 21 years and received her ultrasound training in San Diego at the Naval School of Health Sciences. Lisa enjoys spending time with her husband of 18 years, her five kids, and 3 grandchildren.  She is a lover of warm-weather and the beach.
Lindsey Marzano - Community Liaison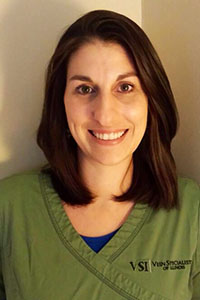 Lindsey Marzano has been part of the Vein Specialists team for over four years and has over 11 years of experience in medical office administration. As our community liaison, Lindsey works with groups such as townships, residential organizations, local businesses and community organizations to find opportunities to educate people about vein disease and support community initiatives that promote healthy lifestyles. Her work has given us the opportunity to set up free vein screening events with organizations such as Hanover Township and Sun City Residents Association as well as sponsor community events like the Crystal Lake Half Marathon, the Barrington Family Fitness Run and the Elgin Harvest Hustle.
When she's not working, Lindsey enjoys spending time with her husband, two children and crazy dog, Gordon. Together they enjoy hiking in local forest preserves, fishing, cooking, and all kinds of music.
Maggie Buedel - Insurance and Financial Coordinator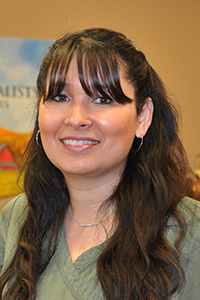 Maggie Buedel has more than nine years of experience in medical office administration. As a member of our reception team, her warm smile and caring demeanor make our patients feel welcome. As our insurance and financial coordinator, Maggie helps our patients understand their insurance benefits and advocates on their behalf to obtain maximum coverage for their procedures. She is instrumental in helping patients understand the financial aspect of the treatment process. She enjoys spending quality time with her daughter, reading, reaching out to those in need, and decorating for the holidays.
Martha Vargas - Scheduling Coordinator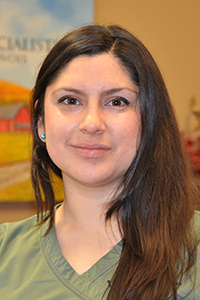 Martha Vargas has over 9 years of experience in medical office administration. As our reception team, Martha strives to make every patient feel welcome and comfortable, from their very first phone call to your last visit. Her knowledge of the treatment process and our practice allows her to help patients tailor their treatment plan and appointments to best fit their individual needs. When not at work, Martha enjoys spending time with her husband and extended family, exercising and crafting.